If you weren't able to try Starbucks' new Unicorn Frappuccino before it left stores, you're either living under a rock, living near a Starbucks that kept running out, or you just don't care about Lisa Frank-chic beverages. But if you are still pining to try one of these magically/artificially-colored blended treats, or are distraught at the thought of encountering another one about as often as you'd encounter an actual unicorn, fear not: there's a way to make Unicorn Frappuccinos in the comfort of your own home.
This magical drink was only available for a few days, but if you didn't make it in time (or can't bear the thought of living without it!), don't despair.
DIY Unicorn Frappuccino - RECIPE #1 BY POPSUGAR
INGREDIENTS
For the blue syrup:
For the Frappuccino:
For the topping:
Cups:
DIRECTIONS
1. To make blue syrup: Into a bowl, add Kool-Aid powder and water, and mix to combine. Whisk in the melted white chocolate until completely incorporated. If it sets or is a little too thick, you can add 1 drop of water at a time until you have a pourable consistency.
2. To make Frappuccino: Into a blender, add your ice, milk, vanilla ice cream, mango syrup, pink lemonade Kool-Aid powder, citric acid, and grenadine. Blend until smooth. If the color isn't vibrant enough, you can add more grenadine 1/4 teaspoon at a time.
3. To assemble: Pour the pink mango Frappuccino into the cup, filling it a third of the way full. Then drizzle the blue syrup around the inside of the cup, letting it drip down slightly. Top with remaining Frappuccino and whipped cream, and then sprinkle with pearl dust. Serve immediately.
(Recipe by: Popsugar)
DIY Unicorn Frappuccino - RECIPE #2 BY KIRSTEN NUNEZ
Making the limited-edition Unicorn Frappuccino at home is easy. The only catch is that it will not have the same flavors, because let's face it – who has sugary syrups laying around at home? OK, so maybe you can just buy them. But in the interest of keeping things simple, you can use good ol' fruits and ice cream. This option is also ideal if you are not into the idea of sour Frappuccinos. The best part? You can even customize it to your health needs. Use dairy-free ice cream and milk made of coconut, soy, or almond. Then make frozen banana ice cream blended with blueberries. Your magic, your rules.
INGREDIENTS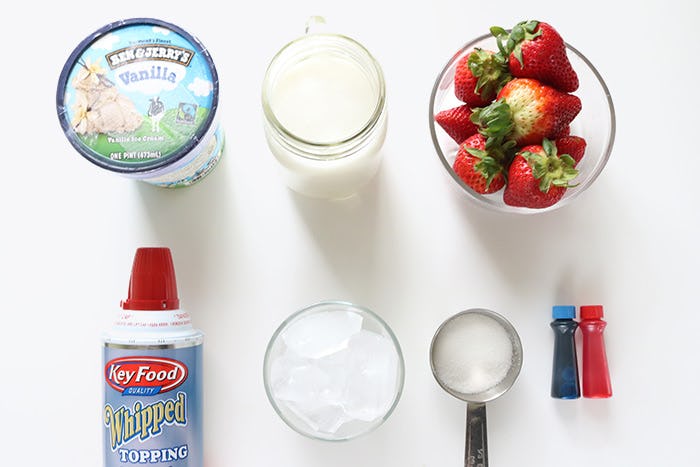 Vanilla ice cream (1/4 cup and 1/2 cup)
Milk of your choice (1/4 cup and 1/2 cup)
Strawberries
2 cups ice
Whipped cream
Sugar
To make this drink dairy-free, use coconut, almond, or soy ice cream and milk.
DIRECTIONS
1. Separate the sugar into two separate containers. Add a few drops of blue food coloring to one, and red to the other.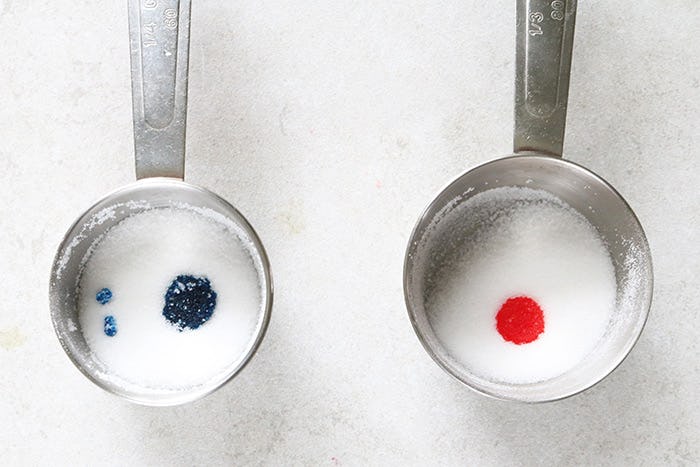 2. Mix well. If you want to ditch the food coloring all together, skip Steps 1 and 2.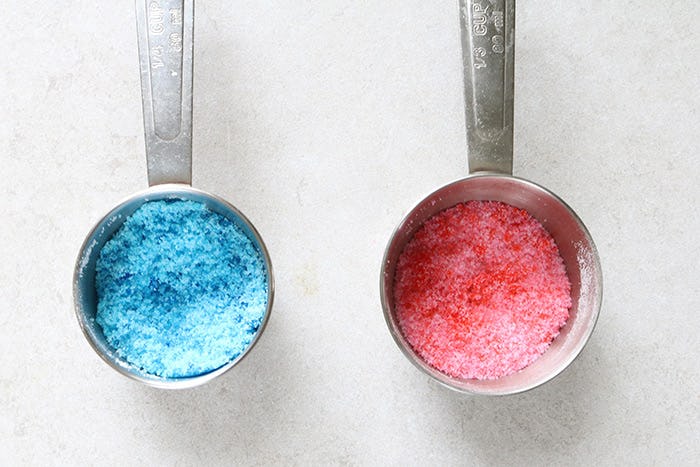 3. Chop up 2 to 3 large strawberries.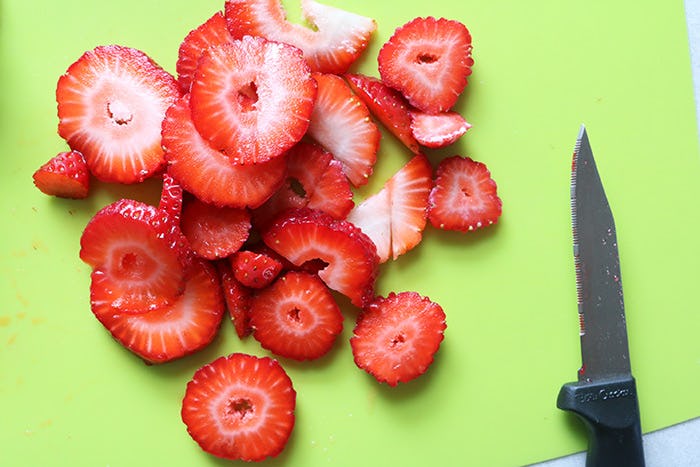 4. In a blender, combine 1/4 cup ice cream, 1/2 cup milk, 1 cup ice, and the chopped strawberries. If you'd like, add a few drops of red coloring to create a more saturated shade of pink.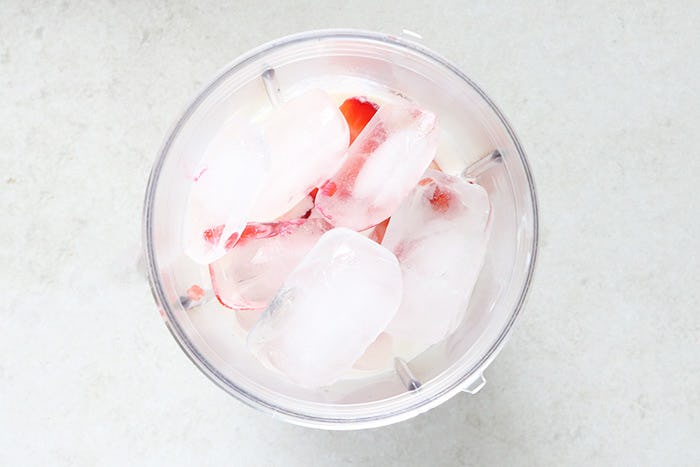 5. Blend until the mixture is smooth in consistency. Set aside in the freezer.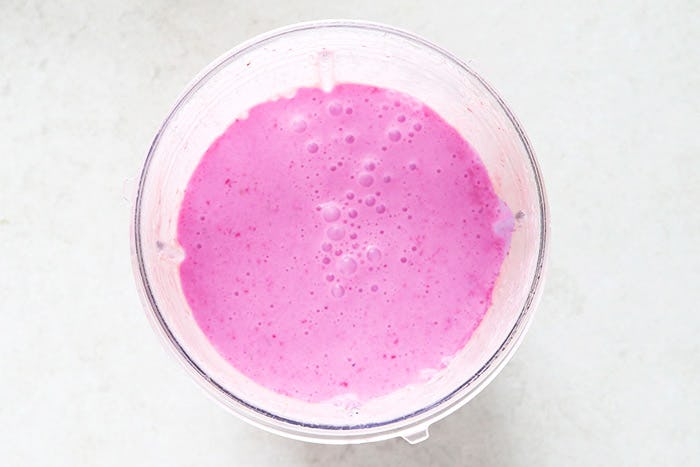 6. Add 1/2 cup ice cream, 1/4 cup milk, 1 cup ice, and blue food coloring. Note that you're using more ice cream and less milk for this part. This will help thicken up the consistency of the blue portion, since you're not using fruits. However, if you want to skip the food coloring, use blueberries or blackberries. Keep in mind that this will create a purple shade, but it'll still look pretty as heck.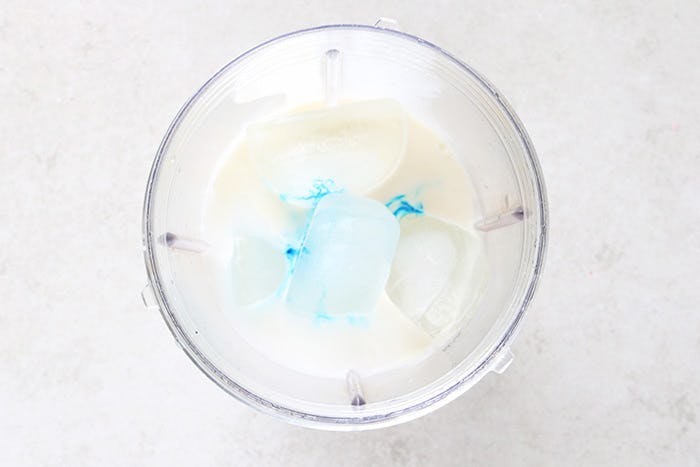 7. Blend until smooth.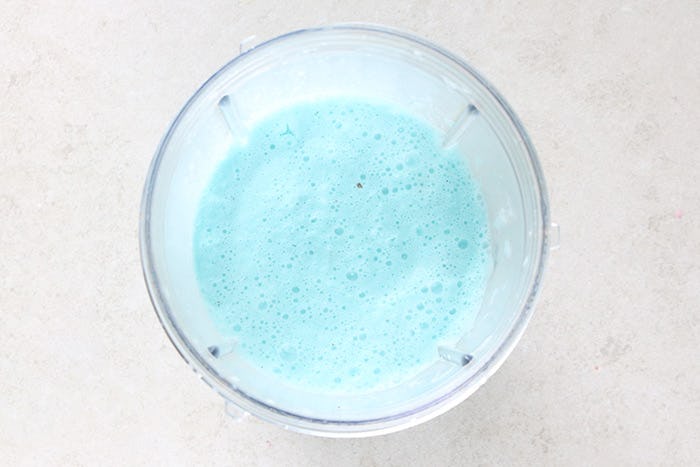 8. Grab a pint glass, mason jar, or mug. Make sure it's clear, so you can see the mystical goodness. Pour half of the strawberry mixture into the cup. Follow up with some blue, then top off with more strawberry.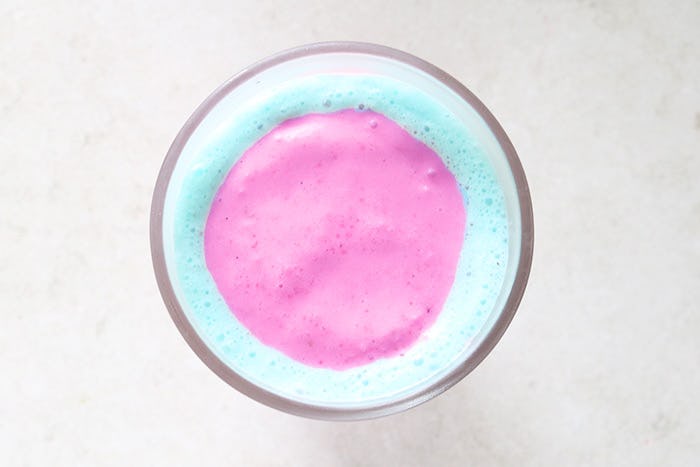 9. Use a straw to swirl the colors together. Top off with whipped cream and colored sugar.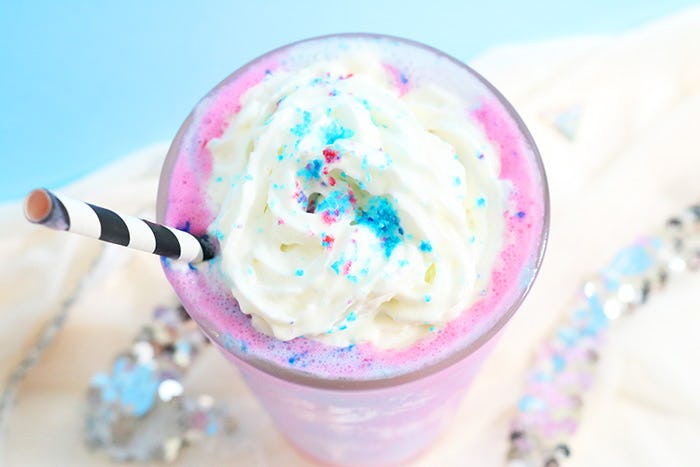 Heads up, though. The colors are going to quickly mesh together in this one, since it calls for ice cream and milk instead of ice and syrup. So you'll want to get this on the 'gram ASAP.
Either way, it's an awesome trade-off for not having to buy syrup or leave your house. Also, it's so freakin' fun to make. How magical is that?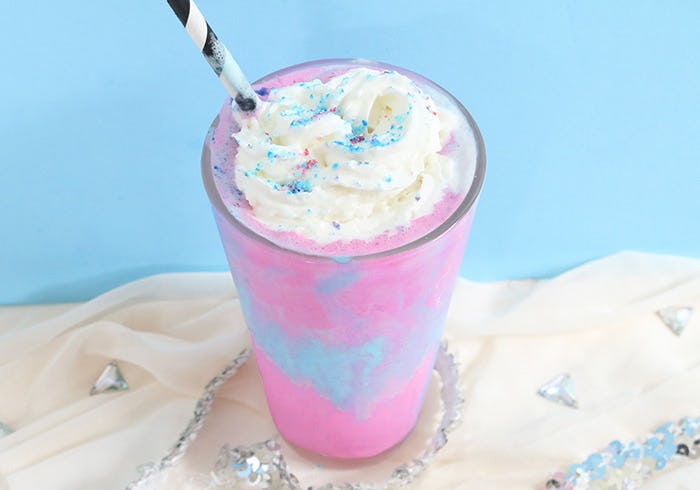 (Recipe by: Bustle)
DIY Unicorn Frappuccino - RECIPE #3
 

BY COURTNEY RANDALL

(Recipe by: Courtney Randall)